<< The first-born of the brand-new Aikan Cocktails >>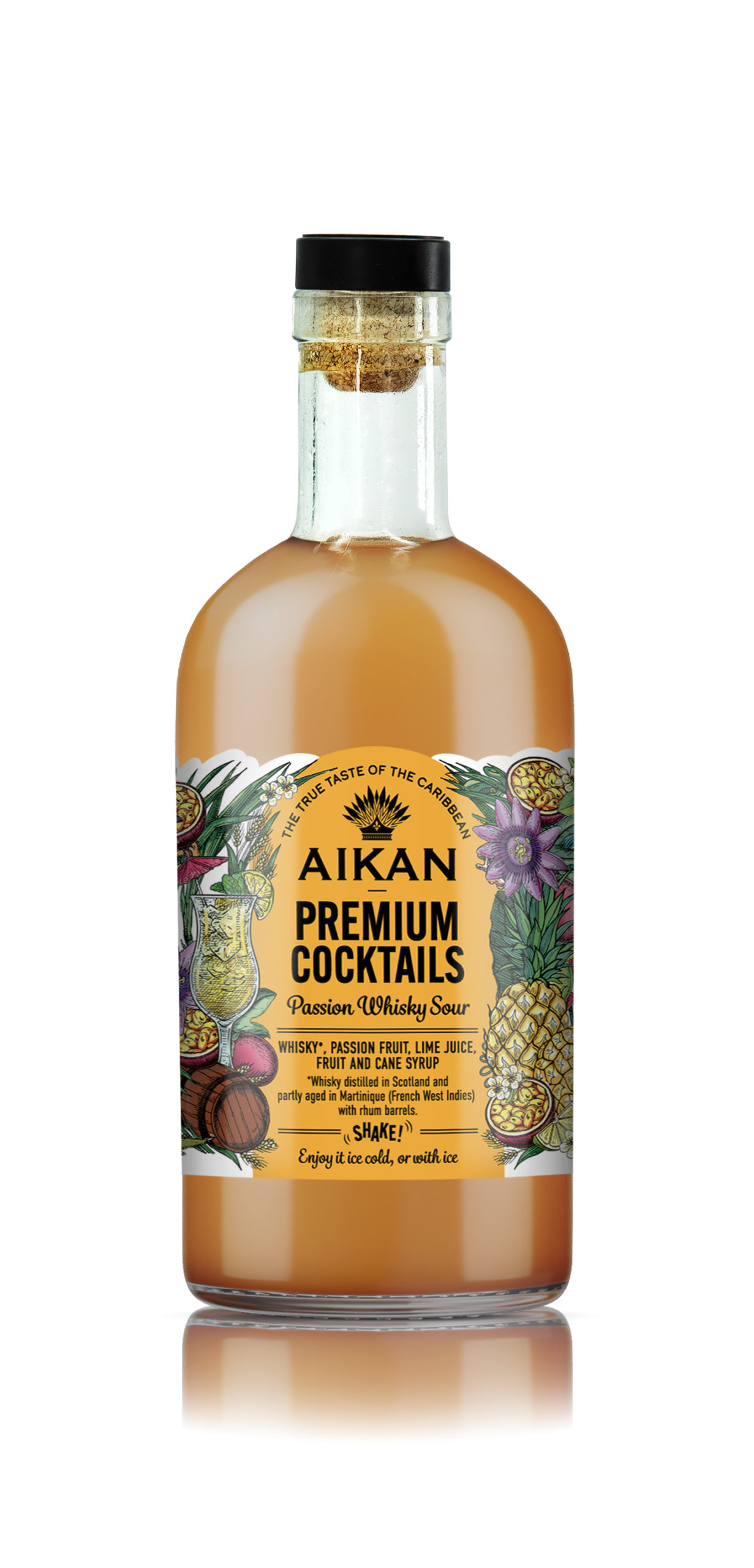 Aikan cocktails passion is the first addition to the brand-new Aikan Cocktails range. It's a 100% natural cocktail with passion fruit and other fruits, crafted exclusively with whisky distilled in Scotland, part of which has been aged in the tropical climate of Martinique with rum barrels, the keystone of Aikan's expertise.
Evolution:
Aikan Cocktails Passion is a veritable concentrate of tropical flavors, here highlighting the intensity and nuances of passion fruit with a whisky base, an alternative to arranged rums and punch, which employ white, agricultural or molasses rum.
Promise:
A ready-to-drink tropical fruit cocktail of rare intensity, where the quality of passion fruit quality of the passion fruit, with a beautiful acidic balance and a finish not unlike
reminiscent of Aikan Intense, with a unique, finely woody sensation.
Type : Whisky-based tropical tangy cocktail
Origin : Scotland / Martinique.
Ingredients :
Our whiskies are rigorously selected in Scotland, then partly aged in the tropical climate of Martinique, using rum barrels. Aikan Cocktails Passion is therefore a cocktail based on whisky distilled in Scotland and partially tropicalized and aged in rum barrels.
Serving suggestions :
As an aperitif or digestif, on the rocks or crushed ice, or with sparkling water or soda.
Tasting notes:
A tangy, bold blend of tropical fruit and whisky, this is the recipe for Passion Whisky Sour, a classic cocktail revisited with the "Caribbean touch" so dear to Aikan.
Color: Deep orange.
Nose: The freshness of ripe passion fruit and citrus mingles with the delicately spicy complexity of whisky.
Palate: A silky, creamy texture, with a lovely fruity, tangy attack of all the nuances of passion fruit (flowers, tropical fruit, berries), followed by refreshing sweet spices (cinnamon) and vanilla.
Finish: Intense, persistent, very fruity and honeyed, giving way to whisky and oak barrels.