Aikan means "marriage" in Arawak, the language of the first inhabitants of Martinique. Aikan is a desire to bring together two continents (Europe and America), two climates (continental and tropical), two spirits universes (whisky and rum).
A pioneer in the ageing of whiskies in a tropical climate with rum barrels since 2016, Aikan offers unique whiskies with a smooth and gourmet profile. This will appeal to both whisky and rum lovers!
WHISKY DISTILLED IN SCOTLAND AND FRANCE
Aikan sources its whiskies from malt and grain distilleries that have been aged for several years in old bourbon casks. They are then sent to the tropics for a unique treatment.
"Yes, We Can!"
AIKAN was born from the passion of its creator, Benoit Albanel, for long-distance travel, unexpected encounters, and great whiskies.
In a permanent quest for excellence, we particularly value encounters, the spirit of openness and innovation.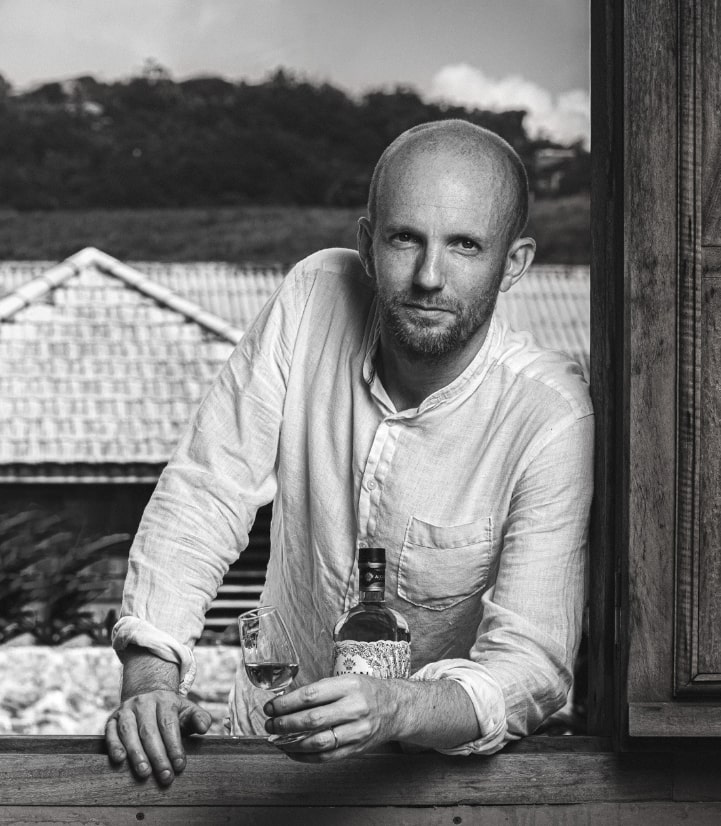 Benoit Albanel is a travel and gastronomy enthusiast who very early on became passionate about whisky… and rum.
So he wanted to create a unique encounter between his two worlds by creating Aikan, the most tropical of whiskies, aged in rum barrels in the Caribbean and its exceptional climatic conditions for maturing whisky. Without concession, he has decided to call on the best cooperages to create outstanding vintages that will appeal to lovers of great tasting spirits, both whisky and rum.
Rumporter: Hello Benoit, what is your background?
Benoît Albanel: I am married and have two little boys. I grew up in Burgundy. For as long as I can remember, I've loved travelling, eating well and… drinking well of course (laughs)! My first 'real' job was as an international volunteer as a cook-intendent for the French Embassy in Jordan.
Then I had my first experience of entrepreneurship by developing a service company with my brother. Then the growing desire to undertake around my passion for whisky finally pushed me to train at the BSB in Dijon (Burgundy School of Business) to refine a new professional project. In 2016, whisky started to age in Martinique!
A: How did you come up with the idea of ageing whisky distilled in Scotland and in France in the Caribbean and more specifically in Martinique?
BA : My wife is Venezuelan and grew up on the Caribbean coast. We were looking for a passion project that would bring us closer to South America.
I also wanted to recreate the emotion of the Japanese whiskies that inspired me so much in my early days, but without waiting decades for exceptional results, thanks to the Caribbean climate.
As for the choice of Martinique, the extreme conditions of temperature and humidity are exceptional for the ageing of whiskies. Not to mention the access to exceptional barrels of old rum.
For many specialists, it is recognised that 60 to 80% of the aromas and structure of a whisky result from its ageing in casks and its environment. Martinique was an obvious choice. I would like to take this opportunity to thank the people of Martinique for their warm welcome and their enthusiasm for Aikan.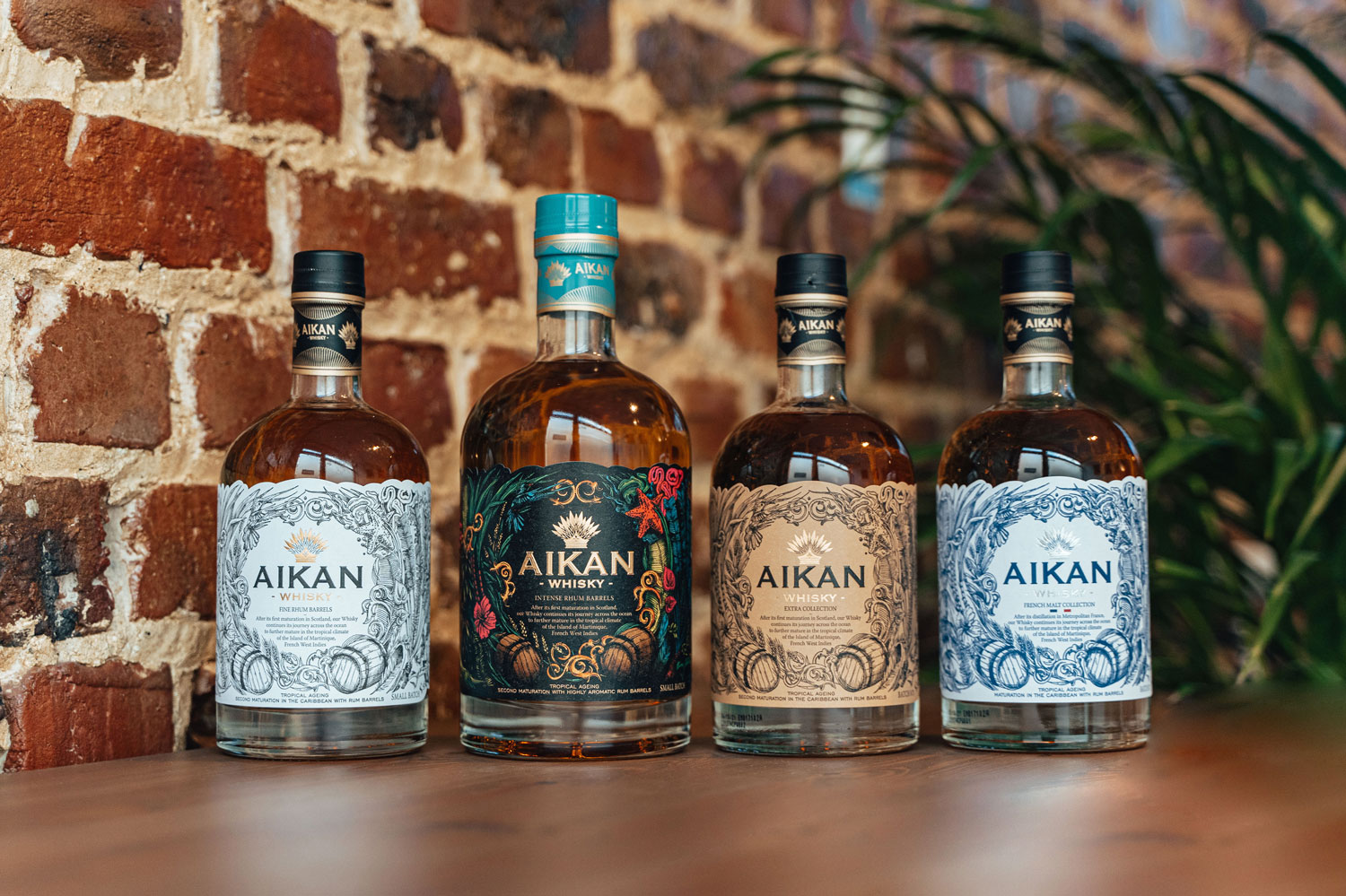 A: What do you think tropical ageing brings to whisky?
BA: Before adding anything, it first subtracts 8 to 10% of the volume of alcohol per year in evaporation, the famous angels' share! But it's for a good cause (laughs)! More seriously, tropical ageing concentrates the aromas much more quickly and brings a very singular maturity.
There is a concentration per angel share that contributes to the unique profile of Aikan whiskies, as well as an ultra-fast extraction of certain compounds from the oak that gives the rum as well as the whisky an exceptional maturity very quickly.
A: Can you tell us about a particular whisky?
BA: "Intense" is quite special, because we used casks that had previously contained Grand Arôme rum and not agricultural rum casks as for our other vintages. A world first!
It is a long-fermented molasses rum, also distilled in Martinique, intensely aromatic and often used in gastronomy because of its powerful and gourmet aromas.
It is a rare style of rum, especially in the barrel-aged version, a cousin of the "high ester" rums of Jamaica. I love it! The rum/whisky hybridity is really confusing! And that's what drives me. To travel from one continent to another in the same sip. That's the promise of Aikan!
A: Where is it aged in Martinique?
BA: All our whiskies are aged for a minimum of one year at the La Salle dwelling in Sainte-Marie, in the north-east of the island. A marvellous site located a few hundred metres from the sea, in the middle of sugar cane fields… we find precisely these iodine and salt accents in our whisky!
A: Can you tell us about the casks used?
BA : I'm fascinated by cask ageing, and cask making has changed very little over the last 2000 years. Although at first sight this process may seem a little primitive, it is in fact a very refined and complex craft; and the many nuances of creation between two barrels will allow the cane or cereal brandy to develop this or that aromatic profile.
We use both American oak barrels, particularly for rum barrels, and new French oak barrels. Several types of toast are used in our blends. We are keen to experiment a lot, especially as the impact of tropical ageing constantly surprises us with its intensity.
The quality of the casks is irreproachable, because tropical ageing is not forgiving, it's a bit like putting the whisky in a Formula 1 car… and you mustn't miss a single bend. In short, any defect is forbidden and the controls upstream, as well as during the ageing and before the blending are one of the keys to success. Careful work, barrel by barrel, and each one retains its personality.
Nevertheless, cooperage has undergone a real revolution over the last decade and this is an exceptional opportunity for whisky lovers to discover these very qualitative aromatic evolutions, and even more so in the tropical and accelerated version with Aikan.
A: What do the drawings on the label say?
BA: The illustration is studded with Caribbean and European elements, symbolising the meeting of the 2 continents and the intrinsic hybridity of our whiskies.
A: Is sustainability a priority at Aikan? Will we ever see a sailing transport?
BA: Of course. We are very concerned about optimising all our production phases. Especially for the part that is marketed in France.
For example, the reduction (the addition of water to obtain the final percentage of alcohol) and the bottling are done in France. For the Intense cuvée, we have chosen not to offer a case, which is not the norm for this category of product.
Concerning sustainable transport, I am particularly sensitive to the subject. I myself promoted ecomobility in 2007 during a 6-month adventure around the world with a friend. Aboard an electrically assisted quadricycle that we had designed and had manufactured in France, we pedalled thousands of kilometres and met journalists in every country to promote it.
We are closely following the development of sailing transport. We are looking forward to connections with Martinique.