« The emotion of the Caribbean »
The first tropicalised whisky to be aged in "High Ester" rum casks, it takes its name from the aromatic intensity borrowed from the greatest rums.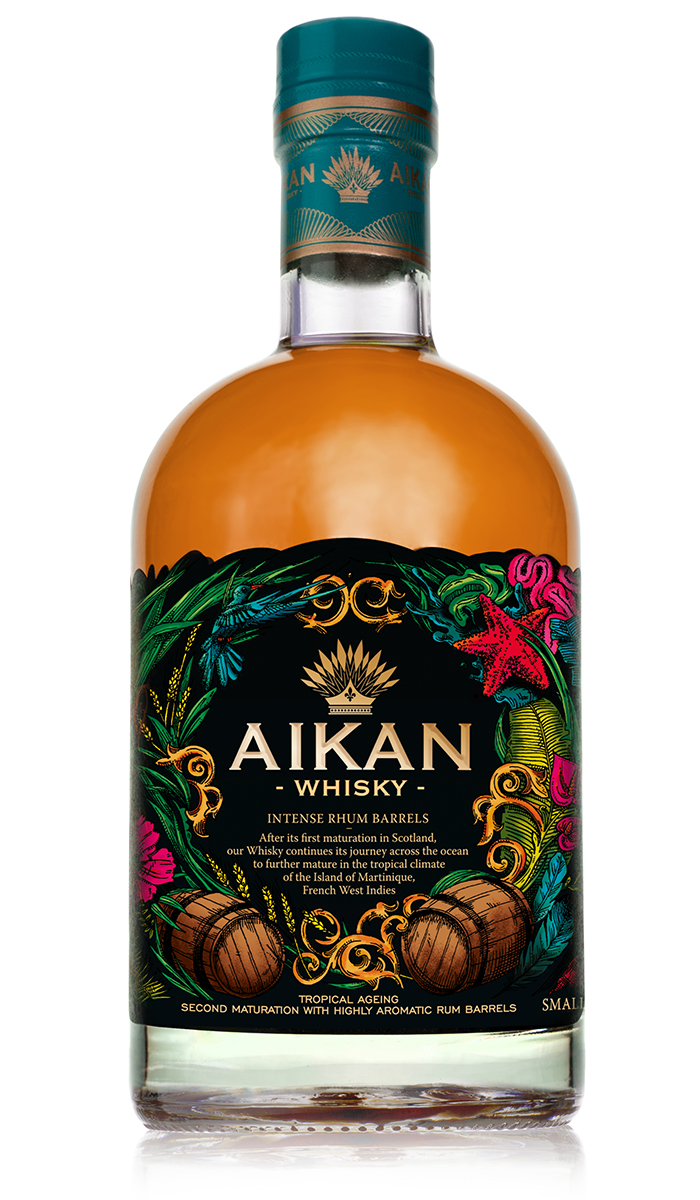 A profile marked by tropical fruits and pastry notes from the extensive use of rum and bourbon barrels.
Tasting Notes:
A complex, gourmet whisky with a hint of vanilla and tropical flavours and an original character that borrows notes of pastry from old rum.
Colour: golden.
Nose: fresh and greedy, it opens with notes of rum baba, flambéed banana, lime zest, vanilla, geranium and liquorice. It evolves on almond milk with iodized and grilled accents.
Palate: fat and dynamic at the same time, it takes up the fruity notes of the nose with even more gourmet accents of mango, brioche, pastry, bitter almond, honey and black and green olive tapenade.
Finish: long and smooth, with notes of small cherries, vanilla, sweet spices and very ripe tropical fruit.
Empty glass: lime zest, vanilla, almond and iodine.
New release:
The first AIKAN whisky aged with casks that previously held molasses rum, in this case 'Grand Arôme' (unsweetened). Also the first bottling in the range at 40% and in 70cl for even greater market accessibility.
Promise:
The ideal whisky to bring together lovers of aromatic fruity and pastry rums and whisky lovers looking for new sensations.
Type: Blended Whisky (pot still for the malt and column distillation for the grain)
Origin: Scotland
Aging :
First aging in traditional casks in Scotland for a minimum of 3 years
Second aging in the Caribbean, in a Martinique cellar, under tropical climate for at least 1 year with rum casks and casks specially designed for Aikan by the best French cooperages
Types of casks :
Mainly red bourbon barrels from various Kentucky distilleries, "Grand Arôme" rum barrels, as well as a small proportion of French oak barrels.
Blended in several stages
Slow dilution to 40%.
Natural colour
Light cold filtration
How to drink:
As an aperitif as well as a digestif, neat or on the rocks, as a long drink with ginger ale